January 21, 2013
Jewel Tones And The Smokey Eye
Sequin dresses are all the rage this season so we're guessing you might have one very new and very fabulous sparkling addition to your wardrobe— just a hunch, but be careful that you pair the right eye makeup with such a dazzling outfit. With all that sparkle, we don't want you looking like you bathed in glitter (maybe just frolicked, a bit). Jewel tones are a beautiful compliment to all things pizazz and an added bonus. They are perfect for warming up your skin during the winter. Just follow these easy steps for the perfect smoky eye.
How to Step 1:
Start with an eye shadow primer. These are a girl's best friend, trust me! Not only will your eye shadow withstand the long night you have ahead, it will help bring out the true color of each shade. Just apply the primer all over your lid and you're ready for step two.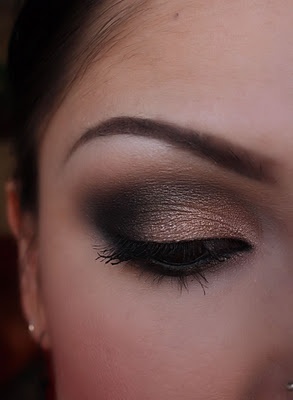 Step 2:
Next, apply dark brown eyeliner to your lower and upper lids. You can also use a plum colored eyeliner for a more dramatic look. Grab an eye shadow brush or use the rubber end on your eyeliner pencil to smudge the eyeliner in an upwards direction. This is the beginning of your smoky eye. This softens the look and is a special trick for achieving the famous smoky eye smolder.
Step 3:
The final step in the smoky eye transformation. You didn't think we would let you leave the house like that did you?! Here comes the color, drama, and sex-kitten look you were going for. First, brush a dark brown eye shadow across your lid. Layer the shadow on slowly to start and apply more generously on the outside corners of your lid and in your crease. This will really highlight and bring out the shape of your eye. Now, grab a shade of plum eye shadow to add on top of the brown. Apply this shadow to the middle of your lid. Last but not least, layer on the mascara, another one of our best friends. Congratulations, you are runway ready.
Have a little patience with this look; the smoky eye is not always easy at first. With a little perseverance you'll leave the house looking like you're hitting the red carpet and you'll be able to put those painful memories of looking like you have a black eye behind you! Don't worry, we've all been there!