STEP 1: MEET EDUCATIONAL REQUIREMENTS
To pursue your passion in beauty, you'll have to meet a few requirements to enroll at Vogue College. You can expect to pay the applicable registration fees and provide proof of age and a high school diploma, GED, or State Issued/Approved Home School Certificate.
You can also expect to provide a second fee with the appropriate State Regulatory Agency. This fee is just $25 and may not be refunded. We are happy to work with you to walk through that process.
Get in touch with our admissions team to learn more about what you need to get ready to apply!
STEP 2: MEET WITH AN ADMISSIONS REPRESENTATIVE
Meeting with an admissions representative can help you get answers to all your questions! Plus, it's a great time to schedule a tour of where you could be pursuing an education in the beauty industry. During your tour, we'd love to talk more about your career goals, what program you'd like to pursue, what your schedule options are, and how we can help you start the application process.
At Vogue College, we strive to help our students accomplish their educational goals. We want you to go after your dreams and succeed! There are a variety of different options for funding your education. Financial aid is available to those who qualify.
We work with veterans and offer different scholarship options in the forms of grants or loans. You can fill out the Free Application for Federal Student Aid (FAFSA®) to learn more about what you may qualify for. During your tour with an admissions representative, we would be happy to discuss any of these options further!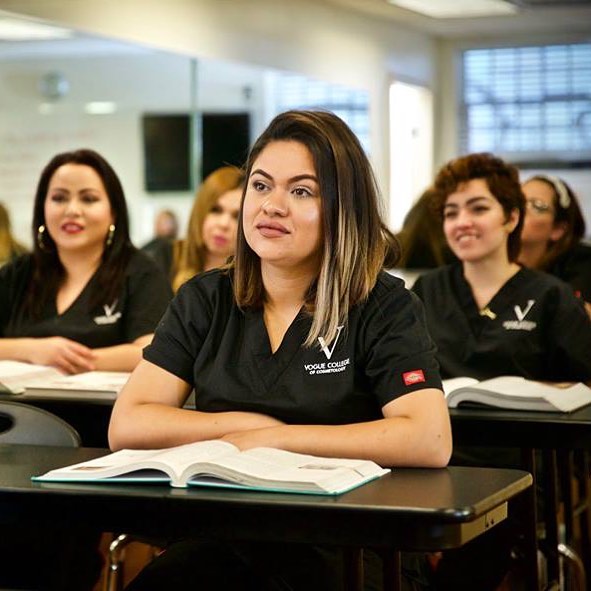 STEP 3: SUBMIT AN APPLICATION
Once you've decided that Vogue College is the right beauty school for you, you can submit the application and application fee to us to register for the program of your choice. When everything is in order, we'll provide you with a student kit and see you on your first day of class!
READY TO START YOUR JOURNEY?
Vogue College of Cosmetology is here to help! Contact our admissions office at 1-866-227-3779 to schedule a tour and answer any questions you have about our school. We're excited to help you begin your journey in the beauty industry!
***At Vogue College of Cosmetology, we believe in equal opportunities and follow the same policies in accepting applications from potential students. We are open to all students without regard to race, color, religion, national origin, gender disability, age, veteran status, or sexual orientation.