March 21, 2013
Assisting 101 with Professional Makeup Artist Dina Gregg
I'm a nerd at heart. I was born into an academic family, and reared in an academic town. We love school. Never stop Learning! was an unspoken motto that I adopted very early in life. I've always marched to the beat of my own drum, and so I didn't follow the majority of my family who went to the Ivy League, but instead chose to major in painting, then cosmetology school, and THEN I went to makeup school. School is great – school rules. I sure got a great foundation (no pun intended) in makeup techniques in the classroom, but guess what? It was through assisting freelance makeup artists that I really got the chops to take my skills to the next level. I always say, Assisting is a Paid Education! What's not to like, right?
I started assisting on NYFW shows about 9 months out of makeup school. My first show was Emilio Cavallini in the tents at Bryant Park in February 2oo1. That began 10+ years of amazing, glamorous, unique and very educational experiences assisting great – and some not so great – makeup artists backstage at shows in NYC, Paris, Milan, Berlin, and LA.
In between show seasons I assisted on set. There's heaps to learn on photo shoots too, some of it quite different from what happens backstage at a fashion show. All of it is good stuff to know! Today I would like to share with you some pointers about what makes a superlative assistant. Note that good assistants get good jobs assisting good artists, and a standard rate. Superlative assistants get the best jobs assisting the top artists at a higher rate (usually), with some glamorous perks. I suggest you take notes. Maybe just go ahead and print this out right now.
ASSISTING 101
My main objective is to make my boss look good. Study tip: Remember Vidal Sassoon's slogan, "If you don't look good, we don't look good."
I am never late. 15 minutes early is on time for an assistant.
I have a kit of my own, with brushes & all necessary tools & supplies. My boss might want to borrow something of mine for the job, and I am fine with that.
I am approachable & professional in equal measure. I say a simple hello to all, maintain a smile often, and stick with my boss.
My boss is my chum. I do not pal around with the clients or big cheeses- photographer, director, clothing designers, etc.
I know my boss' kit as well as my own. I know where to find what products when my boss needs me to locate a color asap. Tip: Unpacking & packing their bag acquaints me with its contents. I can ask a new boss if they would like me to unpack for them.
I keep quiet in order to Listen. I am attentive in order to learn, as well as to stay on top of what's happening on set or within the team/crew environment. My boss could ask me at any point what is the status of anything that is taking place on set or what's the status of the model who's in hair & I need to be ready with the answers.
I am available to my boss to hand them items or hold items while they do the makeup. This includes touch-ups on set. I stand right next to them.
I anticipate the next action. For example, if a girl is going to set, I already have a set bag ready with powder, Q-tips, Kleenex, etc plus products used to touch up the makeup look.
It is not my responsibility to do perfect makeup. It is my responsibility to do the best I can, FAST.
I never make my boss wait for me. I work fast & clean.
I tidy the workspace. What looks like trash is probably trash. When in doubt, I ask before I toss. A used sponge, for example, is not necessarily trash.
I never, ever offer my opinion. I do not suggest ideas to my boss unless asked for input.
I hang back when the key creatives are discussing looks, inspiration or mood boards. I do not jockey to see what's on the monitor.
My boss needs to know where I am at all times. This is the only thing they need to know. Again, as in #7, I need to know everything at all times & be ready to inform my boss of what's next.
I alert my boss when a trip to the loo is needed, or if I'm stepping out of their sight-line for any reason at all.
My personal attire & grooming is clean & professional. I do not draw attention to myself with wild style or over the top makeup on my own face. My shoes will be comfortable on concrete floors or on rocky/muddy/sandy locations for up to 14 hours.
I do not complain or cuss.
I am learning just by showing up, watching, listening, and doing. I never explicitly ask my boss for trade secrets or what tricks to use on my upcoming test shoot this weekend. The secrets are being unveiled right before me every time I show up & stay alert.
I do not explain what I was trying to do if my boss has a critique of my work or behavior. I simply say "Ok" or "Got it", take the constructive criticism & MOVE ON. There's work to do, not a conversation to be had.
In a team environment, I know that I am a cog in the machine. There is no room for ego. Sometimes I get to do 3 girls completely, and sometimes I help my fellow team member get the brows done while they do the rest of the face. Whatever gets the girls in first looks & in the line-up. Secret: many assistants self-eliminate by taking things personally. Don't.
When a product is being shared in the team, I respect my colleagues by returning it to the center of the group or to its owner immediately. Tip: a palette & palette knife are handy here.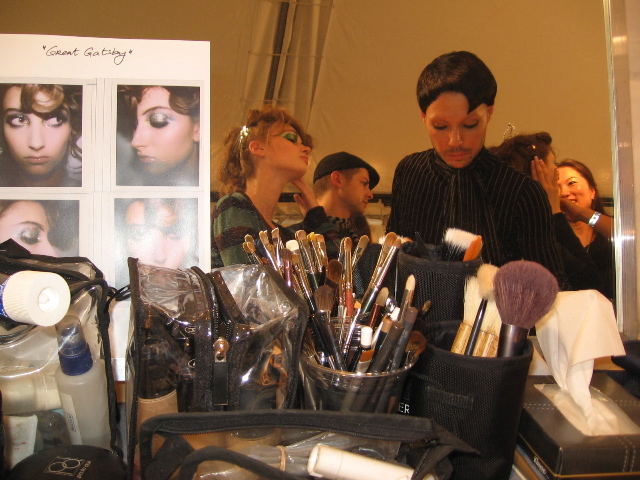 Sometimes my boss just wants a Pepsi. I get the Pepsi, come back and wait for the next directive. If there's no directive, I ask if I can wash brushes. If it seems there's nothing needed, I ask "If you don't need me for 10 minutes, is it OK if I step into the hall to check my email & make a phone call?"
I never assume downtime. I do not get out my iPhone/iPad when things seem slow.
My boss & the other assistants are the only people to whom it would be appropriate to give my card. I may self-promote to the photo assistant, for example, only if done so discretely – like on an official lunch break or when the shoot wraps.
I am willing to work for free on a trial basis. This is an audition. I do my best & am happy with whatever outcome. Here's a secret: Most of the time hard work for no $ is rewarded handsomely later on.
When in doubt, I smile & nod. Everyone loves Yes.
Dina Gregg is a freelance makeup artist currently living & working in Los Angeles after 10 years in NYC. She is represented by Aim Artist agency, and has assisted many of the top makeup artists in the world. Here is a list of artists she has enjoyed assisting: Pat McGrath, Francois Nars, Dick Page, Gucci Westman, Val Garland, Charlotte Tilbury, Diane Kendal, James Kaliardos, Aaron de May, Pep Gay, Denise Markey, Devra Kinery, Tina Turnbow & Vincent Longo…to name but a few. Dina encourages all artists to seek out inspiration & to never stop learning.
Follow Dina Gregg on Twitter! | Keep up with Dina Gregg news on Facebook!