February 15, 2013
Facebook Sweepstakes – iPad Mini Giveaway!!!
Hello friends, friends of friends and complete strangers,
We are so thrilled to announce the start of our very first, very awesome official Facebook Sweepstakes, and the stakes are high! All eligible participants are in it to win an Apple iPad mini (32G, wifi). Talk about a great prize! Vogue College wanted to make sure that if our lucky winner is a current or prospective cosmetology student or professional, the winnings could be used to enhance one's studies and interaction in the world of beauty. With this remarkable little piece of technology, the possibilities are endless; Keep an updated schedule of classes and client appointments, take amazing HD photos and video of your works and accomplishments, scroll through the newest issue of Allure, keep in touch with the beauty experts online and much much more.
For your chance to win, head over to the Vogue Facebook page now and enter! Then, share the contest with your friends to up your chances. You can enter once a day for the next two weeks! So get on it kids. Cheers!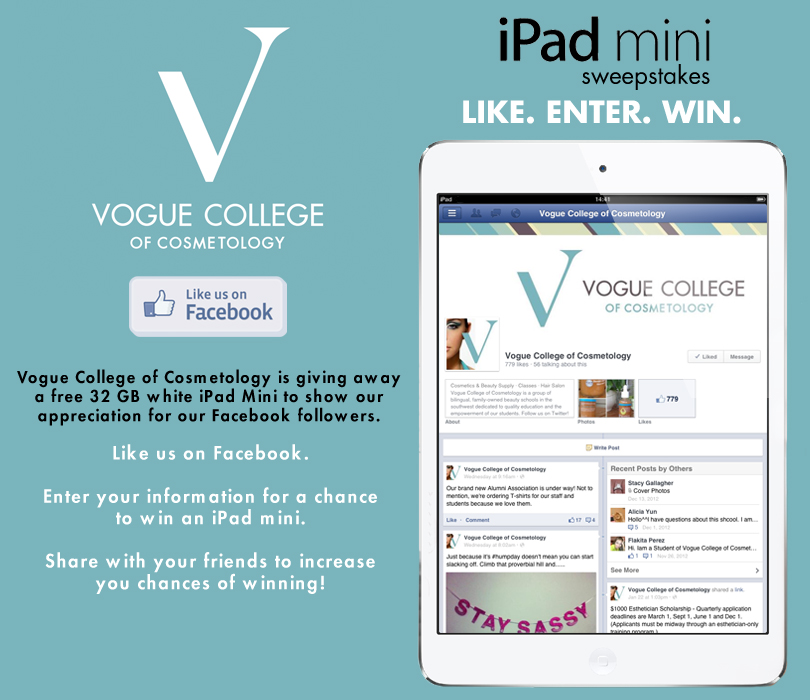 Employees of Vogue College of Cosmetology, VCC Management, LLC or its affiliates are not eligible.